Hello, my name is x and I will be your divine reviewer for today. So let me get you all started with this blog called
SlowCatchUpKuan
, which I assume that Kuan is her name but I am not sure why she name herself as a SlowCatchUpKuan, but one thing slow that I know about this blog is that loading of the first few post in the beginning of this blog, mainly because it is filled with pictures I guess. Well, I am not going to go into the layout details yet but I would very much like to sink my teeth into this blog and find out what it is all about. So let's get started and come join me as I try to figure out what this blog is basically about.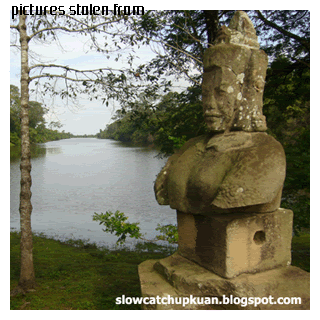 The blog kicks off with her "From Cambodia with Love" affairs, some account of what she did and where she visited there. This travel log of hers is so detailed that she ever list down what she brought there, and I think that the tips and handy advices for traveling in Cambodia is just simply great. There is about 9 long picture filled post on them. Go check it out if you are planning to go Cambodia anytime soon. Her traveling series is just superb and this girl has got talent. She could very much turn in to a "Hell yeah! I am pro tourist" and write a travelling guide anytime. Somewhere in January 2008, she was off to another trip Hanoi; you can also read about it, just click on her Travel and Living label.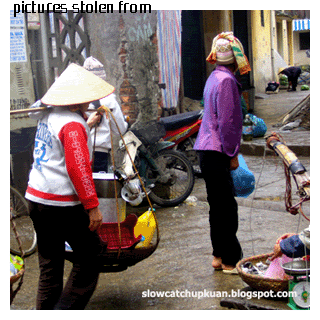 Alright, I guess SlowCatchUpKuan is a pretty open person whom never leaves a shroud of around her, just click on the about me labels on her blog and you will fairly get to know her. Like any blogger, she too likes to blog and rant about everything under the sun. I have seen some bloggers rant and blog about mosquitoes but none did it a series of post, mosquitoes really bug her is what I think. Read it here: 1 2 3 . She also did a series of post on the zoo and if you wanna know what is going on in the zoo this day, our self proclaim Zoo CSI has set up a miniseries broken into four post, go check it out here: one two three four .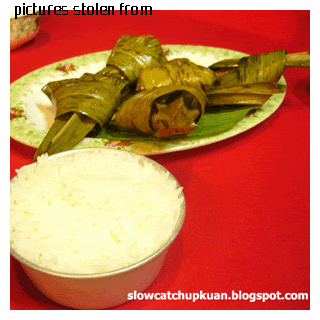 She loves to eat and "she is hungry 24/7 and could devour a cow even after eating so much the whole day", you can find loads of "jalan jalan cari makan" labeled post in her blogs. I guess that is why she has a friend call "AllYouCanEatShung", but it makes me wonder, why with a name like that, he is still so skinny???
She finally realizing that her blog was turning into a food blog, so she started a new blog call Kuan Food Fetish instead.
Some changes after her food review has been moved to another blog: it has lots more paid post, more rants and some showcases of her photography skills and also here is the part where we found out that she is a dog lover and is surrounded by lovely doggies like Kobe, Cotton and Snow and I am sorry Mug Mug who went missing. This blog once used to be somewhat a food blog but now is pretty much turned into a blog about a city girl's life in the city, about her dreams and places that she wants to go.
My first impression when I first got in this blog is that this is what I call a "blogging for money" kind of blog. There are a number of adverts and widgets on bloging for money and out of her 269 post, 63 posts are for making money. What I can say is that she is hard working. She has about 30-40 post per month; frankly, if I haven't met the "really hardcore blogger", I would have thought SlowCatchUpKuan to be one, but she is still behind the hardcore one's amount of post, so I guess she is just a semi-hardcore blogger. She has got shit lots of widgets on her side bars which to my surprise didn't take too long to load. But even so, she tags her widgets and links and arranges them in a very nice and user friendly manner. I gotta give her credit on this because most blog with this much of links and widgets are often messy and all over the place. Overall, sigh….this blog doesn't make my eyes bleed, so I can't go shouting "my eyes…" But she likes to change the color of the font of certain lines in the post which is really confusing to new comers while reading her blog; because they are not sure whether it is a hyperlink or just her way to highlight the text.
Overall I think this is a pretty average blog but fill with above average reviews on food and travel logs. This is definitely the blog which I would look for information if would to go the places that she has been to and not to mentioned tips on what to do when your doggie has gone missing.
Emma gonna gif this blog :
4 Cotton stars plus 1 more Mug Mug star for its layout.
7 Kobe stars for its content and useful information.
You know, doing this review has gotta me into the traveling fever again, but for the time being, all I can do is just shake my ass to Flea's bass running in Red Hot Chili Peppers' Around the World and wait for my turn to go travelling. To SlowCatchUpKuan, Spain is the place which I really wanna go too, and for the record Manhattan is awesome!!!!!